The Best One-Step Compound in the Detailing World!
Using Rotary & DA Polishers,S20 Black is a unique 1-Step High Performance Compound covering a wide range of applications on all common paint systems. SCHOLL Concepts S20 Black cuts like an aggressive cutting compoundbut finishes down like an ultra-fine finishing polish; as long as you select the right pad for the job you will always produce a last step product ready finish in just a single polishing.
Despite its tremendous cutting performance the superior, mirror-like gloss of the 1-Step Detailing Compound is remarkable.removes P1500-P2000 gritt Sanding marks Even holograms and swirl marks on dark paint surfaces can be polished out easily.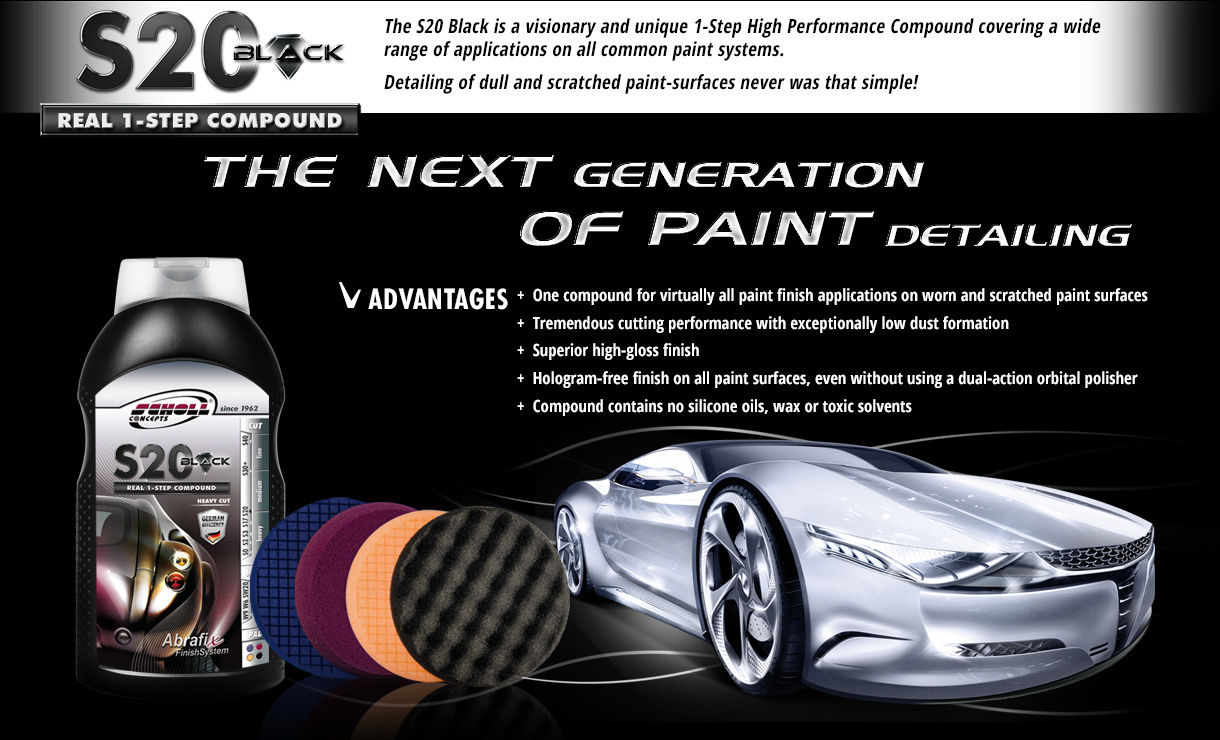 RECOMMENDED PAD:
1. Navy Blue Pad removes deep to moderate scratches from hard paints
2. Purple Pad removes deep to moderate scratches from conventioanl paints
3. NEO Honey Pad removes deep to moderate scratches from saoft paints
4. Soft Touch Black Spider Pad removes minor scratches from hard paints, conventional paints & soft paints
Cut: Medium-Heavy (3.5/6) Gloss: Brilliant (5/6)
  The Best One-Step Compound in the Detailing World! Using Rotary & DA Polishers,S20 Black is a unique 1-Step High Performance Compound covering a wide range of applications on all common paint systems. SCHOLL Concepts S20 Black cuts like an aggressive cutting compoundbut finishes down like an ultra-fine finishing polish; as long as you select the right pad for the job you will always produce a last step product ready finish in just a single polishing. Despite its tremendous cutting performance the superior, mirror-like gloss of the 1-Step Detailing Compound is remarkable.removes P1500-P2000 gritt Sanding marks Even holograms and swirl marks on dark paint surfaces can be polished out easily. RECOMMENDED PAD: 1. Navy Blue Pad removes deep to moderate scratches from hard paints 2. Purple Pad removes deep to moderate scratches from conventioanl paints 3. NEO Honey Pad removes deep to moderate scratches from saoft paints 4. Soft Touch Black Spider Pad removes minor scratches from hard paints, conventional paints & soft paints Cut: Medium-Heavy  (3.5/6)  Gloss: Brilliant (5/6)